Is comprised of an independent group of Dandie lovers who feel that the lives of those Dandies (and their resultant offspring) unfortunate enough to find themselves in a mill or a back-yard-breeder situation are every bit as important as any other Dandie on the face of the earth.

We are not affiliated nor associated with any Dandie Breed

Club nor do we request financial support from any Breed Club.

We are answerable only to those kind donors who agree with our perspective. Donation page >>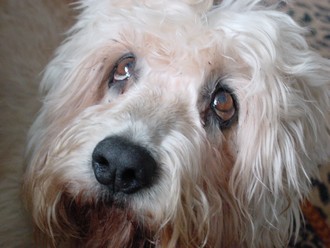 We believe we would be hypocrites to turn our back on these unfortunate Dandies while professing our "love for the breed". We are prepared to extend a loving hand to help them out of the miserable lives they are condemned to live.
We are more than willing to co-ordinate with other Breed Rescue Groups in the event they come upon a Dandie who needs assistance, or if we can help in any way with one of their breed.
The conditions in puppy mills are unimaginably terrible. The dogs live mostly in tiny, filthy, cages for their entire lives. They are not given sufficient food or water; very little in the way of medical care; bitches are bred from their first heat until they cannot produce any more puppies - they are bred even if they are ill at the time of mating. The dogs are not regarded as sentient beings; they are just "things" from which the millers can obtain an income. They are treated accordingly.
Do you know that almost all of the puppies offered for sale in Pet Shops come from puppy mills?
It could be argued that by rescuing these Dandies we are encouraging the millers and back-yard-breeders to continue their breeding programs. However, far from encouraging millers and back yard breeders to breed more, we do all in our power to ensure that they take huge monetary losses – paying, on an average, only 25% of their initial asking prices.
We have a network of volunteer contacts worldwide that monitor puppy mill web sites, auction sites and puppy sale sites that are friendly to millers. We have assisted many breeders by providing information that has allowed them to avoid placing a puppy or adult Dandie in a commercial breeding establishment.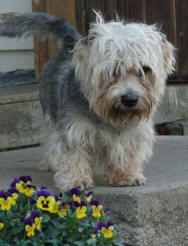 Our rescue efforts are not confined to the USA, we have made a couple of successful forays into mills in other countries.
Once a Dandie has been rescued, whether it is an adult or a puppy, the dog is assessed by a Veterinarian for any illness from which it may be suffering and treated accordingly. It is also assessed for temperament. Except in very rare circumstances they are neutered/spayed before going to their forever homes. The homes into which these dogs are placed are very carefully vetted and approved before placement. Our goal is to place the Dandies in loving "forever" homes, where they can live peacefully for the rest of their lives.